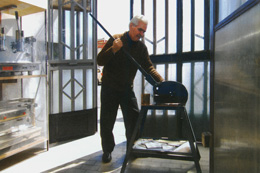 Bosco has been designing and handcrafting professional lever espresso machines in the heart of Naples since 1960.
The refined designs, exacting choice of quality materials and rigorous attention to detail of our machines gain from practically unlimited possibilities for customisation to make them unique.
Building on Naples' longstanding coffee tradition with the finest technology, a Bosco brings you a fragrant espresso, rich in crema, which expresses the full potential of your chosen bean or blend.
Bosco's elegant lever system, proven design solutions and robust components have been refined over more than half a century to combine minimal maintenance and reassuring reliability with an ease of use that ensures peerless extraction quality consistently from the very first shot.
Our aim, pursued with determination and enthusiasm, has always been to create highly-regarded professional espresso machines that are beautifully simple, yet reward the most demanding coffee connoisseur with moments of pure pleasure.
Thanks to this passion for excellence, the name Bosco continues to be synonymous with superlative espresso, and our machines increasingly valued worldwide.