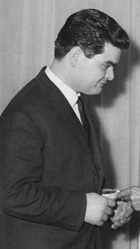 Attilio Bosco founded the Bosco espresso machine company in 1960, embarking on a project that had matured in his mind during 10 years' experience in the sector.
Bosco moved from his native Puglia to Naples when little more than a boy. It was here that he gained his formative experience in the coffee industry, working in the birthplace of the first Italian coffee maker - created long before the invention of espresso - and home to a coffee culture still unparalleled in the world.
Enthused by how knowledgeable and exacting the Neapolitans are about their favourite beverage, the experience the young Attilio Bosco acquired had a decisive influence on the designs and production values of his first machines.
Pursuing his goal with uncompromising dedication, Bosco didn't hesitate to make unconventional choices, committing himself to handcrafted solutions at the height of the industrial boom. When most other companies were investing in automatic machines, he focused on lever machines in the unwavering conviction that they're the best tool for making fine espresso.
His first models immediately distinguished themselves for their robust construction and technical innovations, swiftly bringing the new company an enthusiastic customer base that included the most prestigious bars, restaurants and hotels in Naples.
Within just a few years, Bosco had gained such a following as to reverse earlier trends, restoring lever machines to a prominence that has made them a distinctive feature of Neapolitan life, with over 90% of the espresso machines in the city's bars being lever machines today.
The flexibility of Bosco's handcrafted approach has enabled a variety of special projects to be created over the years, including an imposing six group lever machine, the only one of its kind, which was installed in the largest hospital in the south of Italy in 1989.
At the same time, Bosco's flexibility and creativity also led to a growing demand for customised machines, including cases in an extensive spectrum of colours and wide choice of materials in addition to the customary steel. Taking things further, many feature specially-commissioned silk screen decorations that make them one of a kind.
These strengths secured steady growth for Bosco and increasing renown worldwide. In 1999, the famous American film director Francis Ford Coppola fell in love with the Bosco machine used in an advertising commercial he directed for a renowned coffee company, inspiring the owner of the company to present him with a specially-commissioned Bosco machine to celebrate his birthday.
Sales outside Italy have continued to rise in recent years, supported by agreements with committed distributors in a growing number of countries.
Today, over 50 years after starting his business, Bosco has consolidated the prestige of his machines, underpinned by the enduring values, enthusiasm and passion that have driven him since the beginning.